Hello everyone! For this week I wanted to focus on the work of Pre-Raphaelites. This was a society that formed in London in 1848, that consisted of only male artists. There were painters, sculptors and poets who developed their style due to a critique by John Ruskin. Ruskin was a known art critic who pushed artists to understand the truth in nature. This criticism led to the Brotherhood forming.
The Pre-Raphaelites, rejected the art of Raphael and Michelangelo, but turned to other Italian-Renaissance artist for inspiration such as Botticelli. Their compositions were highly and meticulously detailed. The Pre-Raph's were inspired by biblical stories, moral sensibilities, middle class, and photography. Their works appealed to the Bourgeois Industrialists of Great Britain.
William Holman Hunt was one of the founders of the Pre-Raphaelite Brotherhood. In his composition "The Awakening Conscience", c. 1855, he demonstrates a theme of Victorian sensibility. This is a depiction of a highly detailed Victorian style home. From the wallpaper to the carpet, there is high attention to detail. There is a woman who appears to be sitting on the lap of a middle class man. He is adorned in a suit with cuff links and is well groomed.
The woman's facial expression is capturing a moment of awakening. From the narrative of the composition, the woman appears to be a prostitute. From the glove on the ground to the shawl around her waist to her sitting on the mans lap, are all representations of being a prostitute. She is coming to realize that her promiscuous lifestyle may in fact be wrong.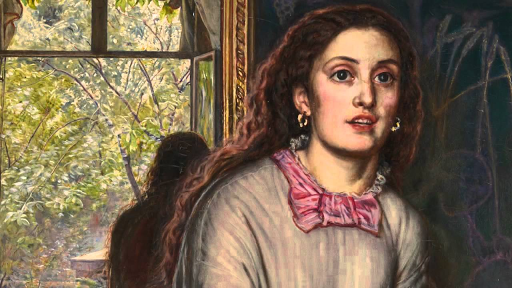 When this composition was hung in an exhibition, it was criticized for being scandalous yet it was considered a sensational subject matter. Hunt did not intend for this, he wanted his work to represent the awakening the woman was undergoing. All in all Hunt's attention to detail is elegant and refined. The tight brushwork of this composition allows for every detail within the interior space to come alive.